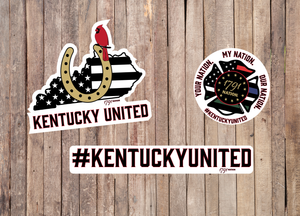 The state of Kentucky has endured quite a bit over last year with multiple natural disasters hitting the state.  They are now facing immense flooding and First Responders from around the state have teamed up together to help those who have been affected by the flooding.  1791 Nation in their second collaboration with the Cuba Fire Department of Cuba Kentucky have created a sticker pack to help raise funds for the Kentucky flooding relief effort.  #KentuckyUnited is about supporting Kentucky during this difficult time, and allowing people across the nation to do something to help.  $500 from every sticker pack purchased will go directly to the Cuba Fire Department to help this effort.  Please share the hashtag #KentuckyUnited to spread the word and raise funds for this cause!

Stickers are made of vinyl, and have permanent adhesion.  
To apply: clean the surface with rubbing alcohol before applying the sticker, once dry the sticker will adhere to the surface, if there is dust or dirt on the surface the sticker will not stick well. 
Kentucky United Design Sticker: 4" x 4.8"
#KentuckyUnited Sticker: 1" x 7.2"
1791 Nation Slogan Sticker: 3" x 3" 
**ALL STICKER PACKS THAT ARE PURCHASED INDIVIDUALLY WILL RECEIVE FREE SHIPPING THAT IS AUTOMATICALLY APPLIED AT CHECKOUT.  IF ADDED TO AN ORDER WITH ADDITIONAL ITEMS THE FLAT RATE $5.99 SHIPPING WILL APPLY**